NSYNC


Stuff

CHRIS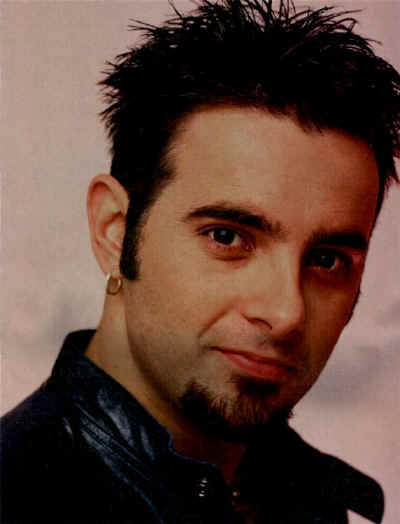 Full Name: Christopher "Chris" Alan Kirkpatrick
Birthdate: October 17, 1971
Star Sign: Libra
Place of Birth: Clarion, Pennsylvania
Current Residence: Orlando, Florida
Eyes: Brown
Hair: Brown
Height: 5' 9"
Weight: 155 lbs
Shoe size: 7 1/2
Christopher Alan Kirkpatrick was born on October 17th, 1971. He is the oldest member of *NSync, and also the old child in his family. He has four younger sisters.

Chris was cast in the lead role in Oliver at the age of 11, and instantly fell in love with performing. He starred in many plays in high school, which led him to major in theater at Valencia College in Orlando. After graduating from Valencia, he enrolled in Rollins and became involved in the Chamber Choir.

Chris is an avid football and hockey fan. His favorite teams are the Pittsburgh Steelers and the Pittsburgh Penguins. (This isn't a big surprise since Chris is originally from Pittsburgh!)

His favorite colors are black and silver. When asked about his favorite singers, Chris chose Michael Jackson and Brian McKnight.

Chris loves in-line skating, surfing and roller hockey. When he is not participating in sports, Chris can be found on the dance floor at local clubs, dancing to techno music.

Chris only has one known tattoo, and that's of the *NSync flame on his ankle.



Jc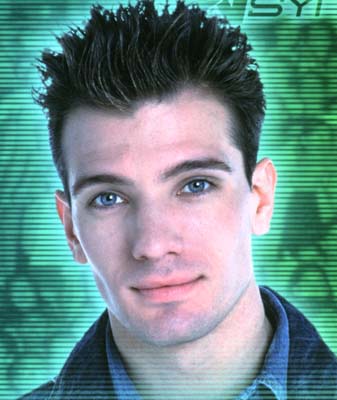 Full Name: Joshua Scott Chasez
Birth date: August 8,1976
Place of birth: Washington DC
Home: Orlando, Flordia
Eyes: Blue
Hair: Brown
Family: Karen &Roy, Heather (sis) Tyler (bro)
Fav. Food: Chinese
Car: Jeep
Star Sign: Leo Joshua Scott Chasez was born on August 8th, 1976 in Washington, D.C. JC grew up in Bowie, Maryland. His current home is located in Orlando, FL. As a little kid he was quiet but managed to get in a lot of trouble. But he has grown up to be a nicely built 5' 10", blue eyed, 145lb man.

Before joining *NSync, JC was a member of the Mickey Mouse Club for four years. His secret to his success is dedication and hard work.

JC's favorite musicians are Sting, Seal, Stevie Wonder, and Boyz II Men. His favorite songs are, "Fragile" by Sting, "Violet" by Seal, "Always on the Run" by Lenny Kravitz, and "Never Felt This Way" by Brian McKnight. His favorite sport is football, and is a big fan of the Washington Redskins.

He says the dumbest thing he's done is jump of the side of a building. And I would have to agree with him on that.

JC says the best thing about being in a band is the friendships he has with the other guys. They'll hopefully be life-long friends.

JC doesn't have any tattoos because he is deathly afraid of needles.




Justin
Full Name: Justin Randall Timberlake
Nicknames: Mr.Smooth, J Curly, Bounce
Birthplace: Memphis, Tennessee Residence: Orlando,Florida
Birthdate: January 31st,1981
Star Sign: Aquarius
Eyes: Blue
Hair: Blond
Height: 6'
Weight: 155 lbs
Shoe Size: 12
Parents: Lynn & Randy Step-Parents: Paul & Lisa
Siblings: Jonathan & Steven
Justin Randall Timberlake was born January 31, 1981 and is the youngest member of *NSync. Justin's been performing since the young age of seven, he loves to sing, dance (that's quite obvious isn't it?), and is known to be quite a comedian. His professional career began at the age of twelve on the Disney Channel's Mickey Mouse Club. He also learned to love acting. Justin's an Aquarius, loves sports and is six feet tall.

Justin says his best quality is being able to make people laugh. Justin's most prized possesion? His voice (he's making quite a bit of money with that voice!), but he wouldn't give up his autographed Shaq jersey for anything. Justin's a huge basketball fan and the Orlando Magic happens to be his favorite team. His favorite basketball player cames from Memphis, Anfernee Hardaway.

Justin's favorite singer is Brian McKnight. "It was such a great thrill to get to meet Brian when he came to do a guest spot on Mickey Mouse Club. He has the most amazing voice and I admire him so much. He is a very cool guy!"

Justin loves performing. He says, "I love that feeling when you're up there singing and the crowd is getting into what you're doing. I love to see the smiles on their faces and know that I had something to do with that."

Justin has three tattoos on his body. He has one of the *NSync flame on his ankle, on his another ankle is a Chinese symbol for music, and one on his leg with his own initials, "JRT". It's turquois, pink, and yellow flames that fan out toward the back of his leg.



How to contact Justin Timberlake:

Justin Timberlake
P.O. Box 692109
Orlando, FL 32869-2109

Hotline: (407) 352-2478







Lance
Full Name: James Lance Bass
Nicknames: Lansten, Scoop
Birthplace: Laurel,Mississippi
Residence: Orlando,Florida
Birthdate: May 4th,1979
Star Sign: Taurus
Eyes: Green
Hair: Blond
Height: 5'10"
Weight: 155 lbs
Shoe Size: 11
Parents: Diane & Jim
Siblings: older sister Stacy
Lance "Lansten" Bass entered the world on May 4th, 1979. He lived in Laurel, Mississippi before moving to his present home in Clinton, Mississippi in 1989. He has an older sister by the name of Stacy.

The blonde haired, green eyed Lance began singing in the chorus in the seventh grade and loved being on stage. He auditioned and gained a spot in a group called the Mississippi Show Stoppers when he was in the eighth grade.

Lance, believe it or not, is the quietest member of the group. Lance loves to play video games. His favorite movie is in fact based on a video game, Mortal Kombat. His favorite color is candy apple red. Lance loves the music of Boyz II Men and his favorite television shows are Mad About You and Friends. He collects anything with the Tazmanian Devil on it since that's his favorite cartoon character.

Lance's best day of his life was, not surprisingly, the day he was called to audition for *NSync. He had heard of JC and Justin from watching the Mickey Mouse Club on the Disney Channel. He was totally surprised when he got the call to come to Orlando. He was the perfect compliment to the other guys.

Lance has two tattoos. He has the *NSync flame, and a Chinese symbol that he cannot remember the meaning of.

How to contact Lance Bass:



Lance Bass
c/o The *NSync Official International Fan Club
P.O. Box 5248
Bellingham, WA 98227




Joey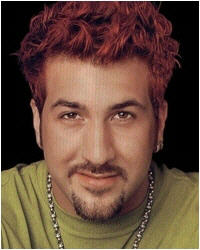 Full Name: Joseph Anthony Fatone, Jr.
Birthday: January 28th, 1977
Birthplace: Brooklyn, New York
Parents: Joe and Phyllis
Siblings: Steve Janine
Height: 6'1''
Weight: 175lbs
Eyes: Brown
Hair: Brown
Shoe Size: 12
Favorite Nsync Song: I Want You Back
Favorite Book: MacBeth
Favorite T.V Show: South Park
Joseph Anthony Fatone Jr., or Joey, was born on January 28, 1977. He is a native of Brooklyn New York but is now a resident of Orlando, Florida since the age of 13. He's about six feet tall and is the youngest child in the family.

Joey graduated high school from Dr. Phillips High School in Orlando, Florida. His favorite subjects? Drama and chorus of course. And there is no surprise in the fact that he loves to perform, whether it's singing, dancing, or acting. Joey's been in many productions, including Damn Yankees, Macbeth, and Guys and Dolls. You might recognize him as the Wolfman from the Beetlejuice show at Universal Studios.

Joey's a fun loving, easy going guy who gets along with everyone. His outgoing personality and his smile make you feel like you've been friends with him all your life.

Joey's favorite movies are My Life and Billy Madison. He likes to listen to Boyz II Men and his favorite song of theirs is "Water Runs Dry".

Joey works hard to be successful in whatever he does, but his favorite way to relax is playing video games. Joey was asked what his perfect date would be, and he said, "For me the perfect date would be a casual dinner and a movie with someone who is outgoing, trusting and has a great sense of humor."

Joey has two confirmed tattoos on his body. One of the *NSync flame on his ankle joined to the Superman symbol, and it's rumored he has a Superman symbol on his chest.